Based in Chennai, The Button Thief Co. (tbtc) believes in creating & adding essentials; designed mindfully from natural handwoven fabrics. These everyday-wardrobe pieces value ease and elegance, over form. Just like a sari.

Swathy, our founder, truly adores the sense of comfort and longevity that saris bring. She believed it would only make sense if the blouse compliments this sense of freedom. Thus began the label's journey as #theblousemakers, from a corner little studio, with a big brown branch and a large white window.

But on a more serious note, we are usually picked for the buttons.
The Design Mission
The fabric, function & fit are the real driving tools of our designs. We understand that good design is the result of paying attention; from how it is made to how it feels. The design process starts with the team thinking about what we really want to wear right now, pertaining more to the season than the trends. We source the most beautiful and sustainable fabrics possible to bring those designs to life every season. Our designs have classic cuts, made to fit comfortably, and basically nothing else.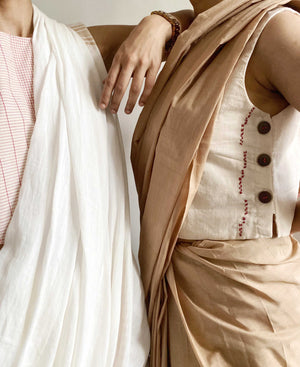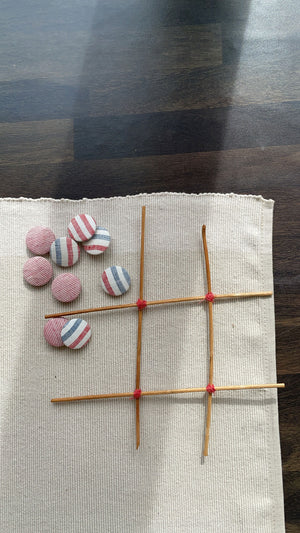 Produce Responsibly
We create small quantities and specifically design our collections in limited batches - this way the pieces we make are unique. We consciously favour and adapt to ethical ways of production. It matters to us how each garment is made and its impact on the environment, and we have intentionally built our supply chain to support responsible production from the fabrics we source to the packaging materials used for shipping the orders.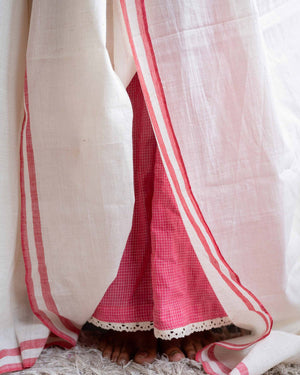 Why Sustainability
There's magic that happens when you put on a piece of clothing that's been made from its simple essence. It lightens you, makes you move effortlessly and truly changes the way you feel about yourself. And this is the real motive behind the blouses we design using naturally-made fabrics. It truly is all about the comfort in freedom.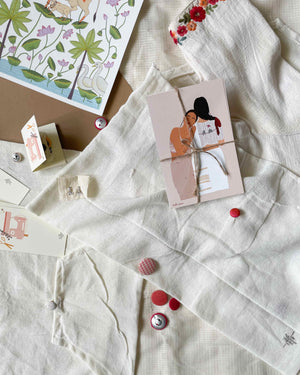 Packaging
All our orders are packed in our handmade shopping-envelopes and are sealed with shipping bags made from recycled materials.
And, every envelope comes with a handmade button, of course!
The Little Things
We do our best to make the most of our leftovers by making shopping totes, buttons, borders, and bows (not yet, but for the sake of alliterations…). These, made by wives, aunts and sisters of our tailors, enjoy the little perks of work-from-home!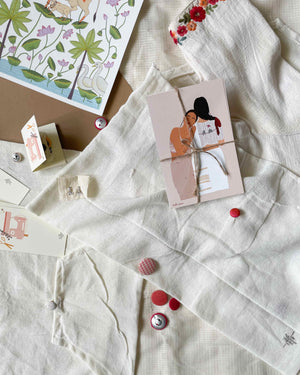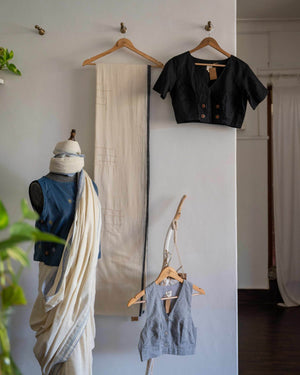 Our Store
Walk through our store, and we will tell you a story for every piece curated consciously, appreciating the artistry of the human hand. All of our treasures, from yardage to blouses to buttons; are made with finest handloom fabrics, from across the remote lands of India.
And, the prices are not cheap. But, ethical work is not cheap, either. As independent boutiques, we offer autonomy to our clients over their purchasing decisions: to identify one's personal style, develop an eye to buy pieces that compliment it and basically, to demand more quality from their clothes and lifestyle.
Come, drop by:

42, FIRST FLOOR
VENKETRATHINAM NAGAR, ADYAR
CHENNAI 600021 | INDIA
MOBILE: +91 75500 36598

11 00 - 17 HRS | MON - SAT |

Wash Care
Our pieces are crafted with longevity in mind. Here we suggest on how to make your blouses last as long as they were designed to.

-Like many khadi blouses, these need washing less than you'd expect. Hang them up to ventilate between wears.

-Hand-wash is recommended. Gently, please.

-Dry-clean when necessary.

-Hang the blouses to air dry. Tumble drying can make the fibres, buttons and threads very angry or could leave them feeling unpleasant in the long run.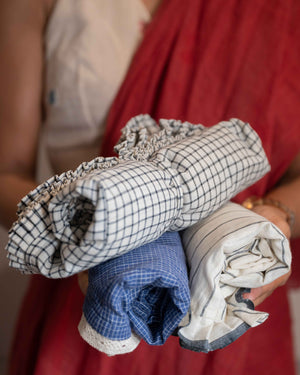 Exchanges and Returns
Exchanges (change colour, size, style) and returns (not in cash) can be made within seven days after reception of the order. The garment must be returned to us in unused, perfect condition. Returns will only be accepted if labels and original packaging are fully intact. The client is responsible for the shipping of returned garments. We do not charge additional shipping on exchanges.

Address your return to:
THE BUTTON THIEF CO
42, FIRST FLOOR
VENKETRATHINAM NAGAR, ADYAR
CHENNAI 600021
INDIA
MOBILE: +91 75500 36598